Pine Creek Sprinkler Blowout!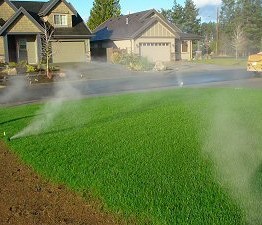 Pine Creek Sprinkler Blowout & Winterizing Experts!
Gary's Lawn Solutions have been sprinkler blowout and sprinkler winterizing experts in Pine Creek and surrounding areas since 1995". We are very grateful for the wonderful opportunities the Pine Creek community has provided to us.
What is a Sprinkler Blowout ?
A sprinkler blowout is a process of blowing out the water from a sprinkler system. In most cases, a commercial compressor is attached to the backflow preventer and water is pushed out of the sprinkler lines using compressed air. A sprinkler blowout primarily extracts most of the water from the sprinkler lines.​​
What is Sprinkler Winterization versus a Sprinkler Blowout?
The term "Sprinkler Winterization", is the process of adjusting and preparing vulnerable components of a sprinkler system to prevent the system from breaking throughout the winter. Freeze damage is the number one cause of any sprinkler repair and is typically caused by water and air expanding within the system.

The term "Sprinkler Blowout", is just one of many necessary procedures to help protect the sprinkler system from breaking. Many homeowners believe that blowing the water out of their sprinkler system will guarantee that their sprinklers are fully protected throughout the winter. We believe that all preventative measures should be performed to avoid unnecessary and costly sprinkler repairs.

Why choose Gary's Lawn Solutions for your sprinkler blowout and sprinkler winterizing?
Our "10 point" sprinkler blowout and winterizing packages in Pine Creek are performed by licensed plumbers who have 20 plus years of hands-on experience. Blowing out and winterizing sprinkler systems must be performed properly to help avoid freeze damage. In addition to blowing out the water trapped inside your sprinkler lines, our step-by-step winterizing process will protect all the other components.

Repairing or replacing broken manifold valves, backflow valves, copper pipes, as well as many other components is usually very expensive, and this is in addition to any landscape damage or possible basement flooding. After we've concluded your sprinkler blowout and winterize your sprinkler system, you'll know every preventative measure was properly performed and your system will be protected until it's activated the following spring.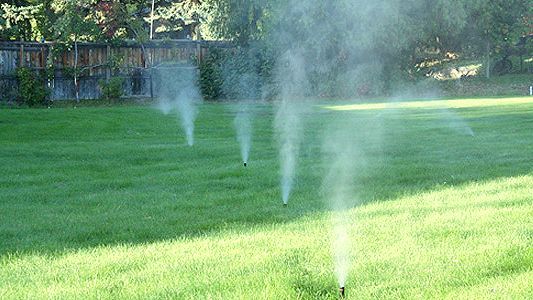 Our 10 Point Sprinkler Blowout & Winterizing Package in Pine Creek

1) Turn off and depressurize sprinkler water supply
​
2)  Inspect manifold, valves, and solenoids, prior to applying air pressure
​
3) Check tap-out lines (copper & PVC) for stress cracks and leaks
​
4) Professionally blow out water from sprinkler lines & all drip lines
​
5) Adjust all electrical & mechanical components
​
6) Adjust backflow valves and all other airflow devices
​
7) Adjust manifold valves, bleeder valves, and solenoids
​
8) Open and adjust additional drains on the manifolds 
​
9) Deactivate irrigation control panel correctly
​
10) Open interior drain valves to prevent basement flooding

Special:
Free backflow insulation wrap included with your sprinkler blowout and sprinkler winterizing package
We want you to " KNOW" that your sprinkler system is protected!